THE WEIRDNESS OF REV.JIM!
Fart Links
Links to some of Rev.Jim's favorite FART sites.


Check out the Daily Fartcast at Rothy's Fart Page.

Visit The Fart Farm!

The folks at The FartBag.com sell what they claim to be "America's #1 Fart Noise Maker. They also market Fartin Martin stickers and T-Shirts.

The Official L&K Productions Fartsite, you can check out a bunch of Fart Sounds, Links and Movies & Videos!
Click Here to go to L & K Farts!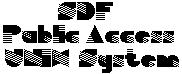 This Page İMM-MMVIX Rev.Jim