THE WEIRDNESS OF REV.JIM!
Links To Other Weird Stuff


Click Here to check out some of Rev.Jim's favorite Fart Links!

"There strode in, like a Goth into the elegant marble vomitorium of Petronius Arbiter, a haggard and dishevelled person."
-1923 A.Huxley in "Antic Hay"

Click Here To Visit The Vomitorium where you can find the leading display of airsickness bags on the web and links to other notable barf bag sites



Get recipes for Crudites With Vomit Vinaigrette, Fried Giant Silkworm Pupae,Tuna Twinkie Soufflé,and how to make a Spam Shake to wash it all down at: Weird and Different Recipes





Can you actually live life not knowing which race is the most endowed, or who was the deadliest female sadist in history? Untold millions went to their graves in ignorance, but here's your chance to be among the enlightened!
Click Here to visit World Sexual Records. Check out the biggest, smallest and weirdest organs, acts, and people in the world.




Make someone's day! E-Mail them a voodoo doll Click Here To Send One!

Click Here to go to a site that will take your picture through your monitor.



This link is for Sprite

To go to the
Bewitched and Elizabeth Montgomery
website
Click Here



Click on the graphic below to vote for my site as site of the week at Webbieworld!


Links to some sites that helped make this page a lot easier to build.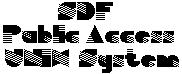 Click Here to visit Freeshell.org,the host of this site,
and get your own FREE UNIX shell account.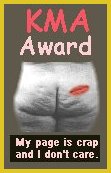 This Page ©MM-MMIX Rev.Jim